WRESTLING: BJC dual meet preview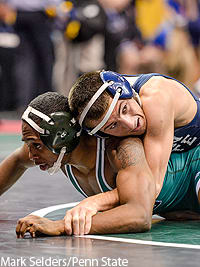 Cael Sanderson expects around 15,500 fans to pour into the sold-out Bryce Jordan Center Sunday for Penn State's dual meet vs. Pittsburgh at 2 p.m. But if fire code could allow, 18,000 would have been in attendance. That, he said, shows the demand of this match.
Sure, he's grateful for everyone who purchased tickets, but there's a sense of disappointment from him when it comes to what could have been.
In case you didn't know, Sanderson's a competitor. Not just a competitor, but a winner. He wants to beat everyone at everything -- not just on the mat, but in dodgeball, the racquetball court and, of course, with attendance records. The current dual meet record is held by Iowa (15,955, vs. Iowa State, a team which Sanderson coached), and when he and his brother/associate head coach Cody Sanderson finally committed to a dual meet in the BJC, it was 16,000 fans or bust.
Despite fire code capping the crowd shy of the record, the Nittany Lions are eagerly looking forward to the experience. At least half the expected starters have never even competed in front of 15,000 fans, so the event will be a new experience for all -- including for many of the fans. Penn State's goal was to attract peripheral fans, some who have never seen a wrestling match. With that many seats filled, there's bound to be at least a couple who fit that description.
Said Cael Sanderson, "When you get a fan who shows up for the first match, you've got to hook them, and hook them for life."
The wrestling matches will take place on a four-foot platform in the center of the arena. Seats will align next to the mat. Spotlights, fireworks, cannons? "There's been talk of it," said Sanderson.
When Cody Sanderson -- the administrator of the Nittany Lions' coaching staff -- first started planning the BJC dual, he wanted the atmosphere to replicate the national tournament. So anything goes.
"These guys are getting an opportunity to compete in front of 15,000 people," Cody said. "They'll never forget that. It's something they're going to remember. They're going to remember running out and coming out into the spotlight and on top of that mat. That's going to stay with them the rest of their life."
He's hoping it has a similar lasting impact on the fans. If there's positive feedback, and if the wrestlers respond well, Penn State will consider doing it again. Maybe it could be against Iowa. If the Sandersons can't beat the Hawkeyes' attendance record, at least they can try beating them on the mat in front of 15,500.
"If we like it and it goes well and we get a good response who knows?," Cody said. "Maybe a year, two years from now -- depending on scheduling or whatever factors there are -- maybe we look at doing it again. I think this is a good opportunity for us to figure some things out about it." 
Here are four bouts to look forward to:
125
Not many people have beaten No. 3* Nico Megaludis (7-1), but his opponent No. 8 Anthony Zanetta (6-1) is one of them. Zanetta topped Megaludis last season in the finals of the Nittany Lion Open, but Megaludis has also beaten the Pitt senior.
Said Cael Sanderson about the opening match, "That's probably the key mtachup right out of the chute. It's a big match for Nico."
133
Jimmy Gulibon (4-3) and No. 11 Jordan Conaway (6-1) have battled for this starting spot since the summer, but its beginning to appear as if Gulibon is slowly separating himself as the starter. For Penn State's dual meets vs. Boston (Fri.) and the Panthers, Sanderson said he "probably won't rotate" the duo.
Look for Gulibon to get the start vs. No. 15 Shelton Mack (9-3) of Pitt.
165
This dual meet was marketed around David Taylor and Ed Ruth. Despite Ruth being suspended, Taylor (8-0), the top-ranked 165-pounder, will still be there to entertain. He will draw freshman Geno Morelli (4-5).
Said Cody Sanderson, "It's an opportunity to see David wrestle -- not many people are going to be able to do that again. We're talking about senior year. This is a chance to get to see a guy who is about as good as you'll ever see on the mat."
174
No. 3 Matt Brown (8-0), a NCAA finalist a season ago, will get his toughest test of the season when he draws No. 8 Tyler Wilps (10-1). Wilps has been making a lot of noise early in the season, and some Pitt fans have this weight class circled as a possible upset.
As of Wednesday Brown said he hadn't studied his opponent yet, but had planned to before Sundays match.
*Rankings are from FloWrestling.com