Watkins announces return for junior season
NEW YORK - Mike Watkins ended the speculation regarding his future at Penn State Thursday night.
The redshirt sophomore big man, soaking in the locker room following Penn State's 82-66 NIT finals win against Utah at Madison Square Garden, announced that he will return to the Nittany Lions next season.
Asked simply whether or not he would be back at Penn State next year, Watkins' answer was resolute.
"Yes I will," he said.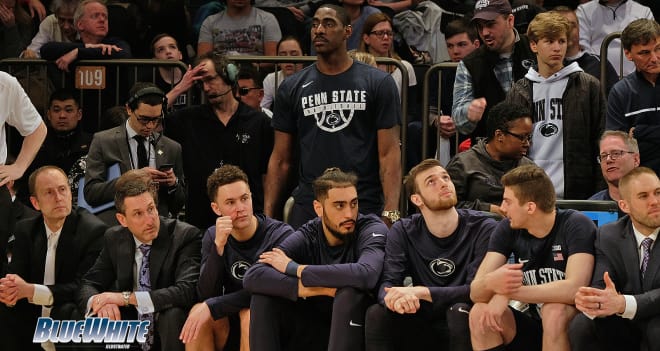 Averaging 12.1 points and 8.9 rebounds per game in 28 appearances this season, Watkins was lost for the season when he injured his right knee early in Penn State's 72-63 loss to Michigan at the Bryce Jordan Center on February 21.

Unable to return for the Nittany Lions' last game of the regular season at Nebraska, any of the Big Ten Tournament, or any of Penn State's five-game NIT Championship run, Watkins pointed to his disappointment over the injury as his primary motivation to return for a fourth year.
Said Watkins, "I want to come back next year just to make a big impact, just so when we make it to the NCAA and we win next year, I can say I gave my all this year and did not miss a game with my teammates."
In all, Watkins was forced to miss nine games with those teammates through the end of the season, seven of which resulted in Penn State wins.
Earning a semifinals berth in the Big Ten Tournament before ultimately rolling through the NIT, the Nittany Lions' success provoked conflicting feelings from Watkins.
"Bitter and sweet, yes. Because we're one team and to watch my team fight without me is very tough," he said. "So, sitting there cheering them on and cheering them on, I love my guys, but also deep down inside it was hurting me that I can't be out there fighting with them."
According to head coach Patrick Chambers, Watkins' rehab will be the primary focus in the coming weeks and months.
"I am going as slow as possible and as cautiously as possible," said Chambers. "We want Mike at 100 percent by summer session two. That's my biggest concern, and I want him to excel academically, so he's gotta stay on top of his grades. If we do all that, he'll be ready to go."
Watkins said he's eager for the arrival of that day.
Though proud of the accomplishments and contributions provided by true freshman John Harrar, Watkins said he wants nothing more than to return to form as soon as possible.
"My motivation is, I can't wait to get out of this brace," said Watkins. "I can't wait to just get back on this court so I can be a work animal, so I can be better and be strong and I don't have to worry about these issues next year."