Punter Blake Gillikin appraises junior-year performance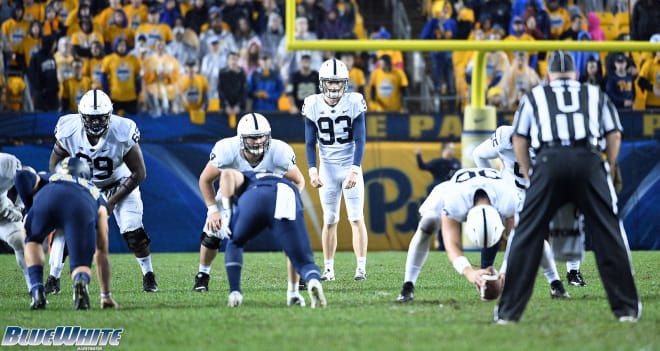 With two games remaining on Penn State's regular-season schedule, special teams captain and punter Blake Gillikin is hopeful his team wins out and finds itself in a sunny bowl destination later this winter.
"I haven't played near home my whole college career," said the native of Smyrna, Ga, an Atlanta suburb. "That'd be pretty cool. At the end of the day we just have to focus on winning these last two games for that to even to be possible, so that's what we're focused on at this point."
Not as though he needs more incentive, but the potential of nice weather is motivating. For someone from the South, the thought of punting on a football field far from central Pennsylvania especially has its appeal right now. But this isn't just something that November brought in.
Downpours were first encountered at Pittsburgh in week two. In October it started to cool down vs.Michigan State. From there, Indiana had winds that reached 21 miles per hour, which James Franklin said were some of the most challenging he's encountered in his coaching career. Hosting Iowa the next week, it was cold, gloomy and wet. Winds out in Michigan weren't friendly either, although not nearly as menacing as the Wolverine defense. Then this past Saturday, there was snow on the ground in Beaver Stadium before it gave way to 36-degree temperatures and an erratic 17-mph breeze.
In part, the conditions have kept Gillikin's punting numbers below where he had wanted them to be during his third season as starter.
"Compared to my first two seasons, [they're] probably not like I expected, to be honest with you," he said. "This year, I think I'd probably say, has been the toughest weather condition-wise that I've had to deal with in my first three years, just from a wind perspective and rain. I think at times I've done a great job putting our team in position to be successful, but in other times I kind of have come up short, so I'm just trying to look at the things I've done well, and things I've done not so well this year and trying to improve everyday and hopefully grow on it the last three games of the season and then going onto next season as well."
As snow continues to fall in the Northeast and autumn's daylight shortens into winter, it's not likely that forecasts become any more temperate for Gillikin in games at Rutgers and then at home vs. Maryland. As he holds out hope for a warm bowl game trip, he's also working on ways to battle through what's uncontrollable.
While his teammates might be practicing more often inside Holuba Hall nowadays, Gillikin still makes sure to get outdoor reps during the week for preparation.
"Even when it gets colder I try to go out and work outside more," he said, "because you don't really get that many opportunities to work with the weather."
After averaging 43.2 yards per punt as a sophomore, after a 42.8-yard average as a true freshman, Gillikin has seen a slight blip in production this season. His average currently sits at 42.7, although that's been improving the past two games despite some wind and rain. His average in November is 44.0 on 11 punts.
Compared to last season, however, he is not placing the ball inside the 10 at the same rate. He's done it eight times so far through 10 games. That's compared to 18 all of last season.
That's not completely attributable to the weather. It also takes into account a moderate change in philosophy or strategy. Under first-year special teams coordinator Phil Galiano, who took over for Charles Huff this off-season, there's a greater emphasis on the direction of the punt.
"It's good to have a multitude of different kicks in your bag, almost like golf," said Gillikin. "We're trying to do a lot more this year with locating the ball and stuff like that [than what] I had done with Coach Huff. I think that can really help our team out. I think it's probably a little bit of an adjustment for me this year, so I think that's something I need to work on in the off-season is being able to locate the ball better."
Because this year, as Gillikin suggested, the efficacy of the new approach hasn't matched his own preseason expectations.
"The biggest thing is consistency," he said. "I think especially my sophomore year I was more consistent than I'd been my freshman year, and I've kinda taken a step back in that area. I think probably attributing some of that to the weather, trying to do different things to combat the different conditions. I think what I need to get back to is focusing on having fun with the process and not thinking too much about changing technique, or what have you, that may be affected by weather, so I think it's just being able to focus on my process. Not trying to to do too much is key for me moving forward."
Moving forward includes a senior season with the Nittany Lions. On preseason watch lists for awards recognizing the best punter in college football, there was once speculation that, with a standout season, Gillikin could opt for a professional football career once he became draft eligible after 2018.
Always finding room for improvement, however, Gillikin said that's not the case.
"A lot of people will think about that during their careers," he said. "For me it has never really been a decision. When I committed here I committed to play for this team for four years and that's not really going to change at this point. I'm just focused on helping this team win the rest of the season and beyond that, next year as well."