In Cabinda's absence, help wanted at Mike linebacker
James Franklin's early signing day announcement came as, at least to the casual observer, something of surprise.
Micah Parsons, a Rivals.com five-star defensive end and the No. 1-overall player in Pennsylvania for the Class of 2018, would begin his career with the Nittany Lions as a linebacker.
"We're going to play Micah Parsons at Mike linebacker this spring and see how that goes," said Franklin at the Dec. 20 press conference at Beaver Stadium. "We know he can move back to defensive end. But we're going to have him here for spring ball and see if he can do that."
The comments allowed Franklin to also add, certainly with purpose, that the program had not yet received a commitment from a defensive end for the class given Parsons' future role. Two days later, the Nittany Lions got as much when Jayson Oweh signed and delivered his letter of intent to Penn State.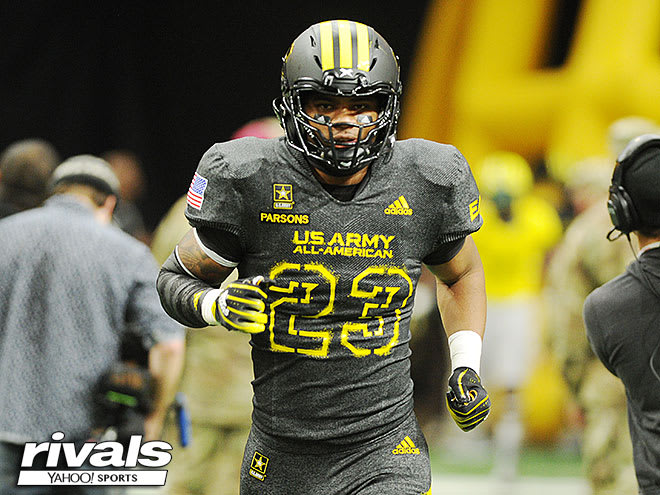 Describing Parsons' strengths and versatility, excelling as a running back which then translates to the same characteristics of linebacker play, Franklin acknowledged that the Harrisburg product could indeed still play defensive end. But with the announced cutting ties between the program and Manny Bowen as well as the end of Jason Cabinda's career as a Nittany Lion, needs exist at linebacker.

"We have a challenge that we need to solve some linebacker depth issues that we have," said Franklin. "We think with him graduating early, he's got a chance to kind of learn it and have a chance to truly compete for the job come the fall. So it's a combination of both. It's a talent, but it's also a need."
That need, and the planned move for Parsons, isn't an unprecedented one in recent Penn State history.
Evaluating the position group that will remain in his absence, Cabinda correlated his own experience moving from defensive end in high school to Mike linebacker at Penn State to Parsons', and detailed the minutiae that will dictate Parsons' success making the transition.
"He's a confident guy, a guy who is confident in his abilities. He's a very skilled player and has a unique skillset, so I think he can do a lot for us," said Cabinda. "I think when you're at D-end in high school, a lot of times it's just like 'Go get it. Go get the ball. Just go.'
"At linebacker, you have responsibilities and some drops. I played some D-end in high school as well, so I kind of know what that's like and I didn't really play linebacker until I got here. So I do know what that's like. It'll be a tough transition, just making sure he's not doing too much. You just gotta stay within the defense and just kind of what the defense is asking you to do."
Echoing Franklin's comments specifically about the Mike position, Cabinda noted that Parsons will not be without competition upon the start of spring practice in March.
"Young Ellis Brooks, who I think has a lot of characteristics that can translate to that Mike linebacker position, he's a hard worker, so I'm really excited for him," said Cabinda. "And then Jan Johnson as well, I think he's a sleeper in the room. As you see, when he gets in, he has a nose for the ball. He always finds himself around the ball. He's a physical guy. I think he's a guy who can also make an impact."
Still, without the returning starter in Cabinda that has been present for the past two off-seasons, the Nittany Lions will be looking to lock down their best, most reliable option for the position this spring.
"We want to make sure we have enough competition that whoever wins the job we know is going to be able to play at a very, very high level," said Franklin. "There are a number of guys that we think are going to fall in that category. We're excited about Jan. We're excited about Ellis, we're excited about a bunch of guys. But the middle linebacker position is going to be an important decision for us, so we want to make sure we have enough competition there."