Hull training hard for Combine success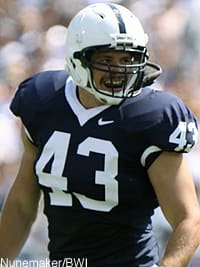 Among the six Nittany Lions invited to participate in this year's NFL Combine at the end of February, only Josh Hull can claim to be a former walk-on at Penn State.
BWI's Nate Bauer caught up with Hull last night over the phone to get his reaction to the invite, catch up on his training methods, reflect on his time at Penn State, and more.
Check out the full interview below!
Did you know you were going to get the invite to the combine? When did you find out?
Hull: I wasn't quite sure if I was going to get an invite or not. I was hoping I was, to be honest I had my fingers crossed. I found a hotline for the NFL Players Association that you can call in. I called them, and they said I was on the bubble list. There were 33 guys on the bubble list and they had to wait and see how many juniors declared and how many juniors were going to be invited to the Combine. The guy said he would call me back on the 25th. So, the 25th comes around and I didn't get called and I was like, Awww no. I was upset and I wasn't quite sure what was going on. So I was like, Let me give it another day and then I'm going to call this guy to see what's up. So, the next day on the 26th, the guy calls me and says he's extending me an invitation to the 2010 NFL Combine. It was awesome. I was real excited. I spent like an hour on the phone calling all of my parents and family and stuff to let everyone know.
Did you ever imagine that might happen? After the year you had, you probably would have thought you'd be on the bubble, right?
Hull: Yeah, I mean, I felt like I had a good year. My production was where it needs to be to go through this whole process. But, the Combine really wasn't in my plans for preparation. But I was coming into this thinking I'd work out for six weeks, be the best I can be in these six weeks and then get to Pro Day at Penn State. But, it's a great opportunity and I'm going to be in the best shape of my life. I'm going to really take advantage of it.
Where are you training and how did all of that get set up?
Hull: I'm in Martinsville, N.J., training at a place called TEST. My agent is Joe Aloisi who has had a lot of success in the past years with this facility. I'm not sure if it was Mel Kiper but somebody on ESPN did a top ten draft preparation places and this is No. 7 on that list. So, it's a pretty well known place. Rich Ohrnberger went there last year and really enjoyed it, so I came down and figured I would give it a shot. I made the right decision, I'm 100 percent sure in my mind that I did.
How does that work out? It always is interesting to me because I assume you're agent is paying for it. At this point, you're still a broke college student, right?
Hull: Right. The agents assume 100 percent - not all of them do, some of them do, my guy does - they assume 100 percent of the responsibility for all of my financial needs working out here, and then after I sign an NFL contract, I'll owe him three percent of what the contract is, so that's kind of how they make money with this.
How are the things you're doing now at TEST different from the training methods at Penn State?
Hull: It's actually pretty similar. The workout style is pretty similar. We do a lot of circuit training. At Penn State, we did failure to every machine. At this place, we don't necessarily do it to failure but the pace of everything is the same. It's a lot of high intensity exercises with little breaks in between. And then after that, this place really emphasizes the speed aspect of training. There's only one test in the Combine that emphasizes strength, and that's the 225 test. They have a special program developed for the bench test at this place I'm at. We've had the opportunity to work with Olympic sprinters. Ato Boldon came in and worked with us for a week. Everything we do is videotaped and is on the computer so after we do it, we can go downstairs to the video room and see what in our technique needs to be adjusted. The guys that we're working with, their credentials are pretty unbelievable. There's a guy with a Master's degree in biomechanics and the list goes on and on for the type of people that we've been working with.
How many other guys are working out with you there?
Hull: It varies a little bit because there are a lot of guys that are still in school, so they're kind of trying to do school in between their training stuff. It varies anywhere between maybe 12 to 16 or 17 guys.
Do they house you nearby the facility?
Hull: We live five minutes from the facility. We stay in a condo and the agent took care of everything. My roommate is actually Dennis Landolt and he's working out at the same place as I am. It's actually worked out pretty well.
Have you been in contact with past teammates that have been through this and current guys that are going through the process as well?
Hull: Yeah, I'm definitely in contact with some of the older guys. Right before I left, Lydell Sargeant gave me a call and he was happy to help me out. He said if I get invited to the Combine and there were any questions to make sure I call him. He said it's going to be the best two months of my life, so enjoy it. And if I need any advice from the older guys, they're all more than willing to help me out.
As for the best couple of months of your life, I have to assume this is a bit of an emotional roller-coaster with some great highs and some nervousness. A little bit of everything, right?
Hull: Yeah, you're exactly right. Even with the training part of it, you may have a couple of real good days and then all of a sudden you get to a day where you're working on these drills and you just can't get the turn down right to where you want to be. It gets real frustrating. My parents have helped me through that though. They helped me through the last five years at Penn State and they're helping me out a lot right now with some of the things that I'm going through. But, this next month or two, I don't really know what's coming. It's exciting, I have a sense of anxiousness, not necessarily nervous because I've been playing the game so long and everything I do is second nature to me, but it's just not knowing what's in store for the future that is the hard part.
Is it odd at all when you're training for the Combine? You guys all sort of become lab rats for very specific drills rather than what you actually do on the football field.
Hull: Your mindset definitely shifts a lot. The 13 week grind of the season, you're solely a football player and you're not worried about how fast you run the 40. You're not worried about how many times you can bench press 225, and now all of a sudden, you get into this type of training and it's almost like you're training to be a track star almost. It's all speed, speed, speed. It's a good change up. It keeps everything rolling in a cyclical pattern and nothing becomes monotonous because you're doing something different every day.
Did you have an opportunity to rest and relax and unwind a little bit after the season ended?
Hull: I think I took off three days, maybe four days when I got back from the bowl game. I was talking to all my buddies, Mickey and Sean and we're all trying to figure out when everyone is leaving to get a day on each other. I came down a day earlier than him to get a head start, so it's kind of funny how it all ends up, but I think we all ended up starting right around the same time.
With the Draft itself, toward the end of the season, a lot of juniors and seniors go to the advisory board to figure out where they're projected to get drafted. As a senior, did you make that inquiry?
Hull: No, I never actually did, not even as a junior. Coming out of my junior year I didn't necessarily have the season I was hoping for my junior year, so I was definitely under the radar with a lot of these scouts. I may still be under the radar, it's getting a little better now because I played in the all-star game in Texas and I think I impressed a lot of people down there. Now that they're starting to get a chance to watch the film from the season, I think I'm going to be a pleasant surprise to a bunch of scouts.
With the Texas game, how did things go down there and were you encouraged by how things did work out for you down there?
Hull: Yeah, everything went really well. We had four practices and I felt like I performed very well in all four practices. I got my hands on a couple of balls in practice, picked some quarterbacks off. I stayed fundamentally sound, just basically tried to do the same things that led to success at Penn State and it worked out. I hustled to all of the balls. I was trying to out-hustle everyone, running a little harder than everyone else, running a little farther than everyone else, and being a leader. I think it definitely did help my draft stock playing in the game.
Obviously, you were a polarizing figure at Penn State. Had you ever thought you would turn into that guy that becomes a lightning bolt for discussion among Penn State fans?
Hull: After my junior year, I took a lot of criticism from a lot of people and most of it I feel was undeserved coming from people who had never played football a down in their life. All of a sudden you have a kid like me who has done nothing but stayed out of trouble, kept his nose clean and worked hard to get to the point where he's at. I really kind of let that go in one ear and out the other. I didn't necessarily picture myself being in the place that I am now, but after the successful senior year that I had, things started to brighten in my future and the NFL all of a sudden was a huge prospect and I'm definitely excited for the opportunity. I can't really picture my life in these next five years without football in it so I'm 100 percent dedicated to doing what I need to do to make it in the NFL.
With that in mind, do you feel at the very least validated for all of the work you've put in if not taking it a step further and feeling some vindication?
Hull: Yeah, sure. I'm not necessarily out here to prove anybody wrong. That's never been my demeanor, that's not the type of personality I have, but I think there's going to be a lot of people biting their tongues on what they said in the past on what they see come draft day, and I'm pretty confident that my name is going to be called.