Hawkins set to decide
Four-star defensive tackle Aeneas Hawkins is planning to make his commitment in the next two weeks. 
One of Ohio's top overall prospects, defensive tackle Aeneas Hawkins, is now just a few weeks away from ending his recruitment.
A 6-foot-3, 260 pound defensive tackle from Cincinnati, Hawkins earned more than 40 scholarship offers dating back to his sophomore year. Programs like Clemson, Florida, Florida State, Georgia, Michigan, Notre Dame and Oklahoma all threw their hat in the race at one point or another, but it now looks as if he's settled on two schools.
"I'm planning to announce sometime around August 9th," Hawkins said. "I'm not sure yet if it'll definitely be that date, but I'm shooting for sometime around the second week of August. I'm still planning to do a video with the Players' Tribune. It's basically just up to me now.
"But I'm also down to two schools: Penn State and Cincinnati. Those have been the two schools I've really been focusing on the most in recent weeks. It's going to be a real hard decision, so that's why I'm planning to take the next week or two to really think everything over. But I know I want to have this done soon. Preseason is starting up now, so I think this is a good time for me to end the process."
In addition to being the hometown school, the University of Cincinnati is a special place to Hawkins, as both his mother and father were Bearcat athletes in the 90's. Many of you are already familiar with Hawkins' father, former NFL defensive back Artrell Hawkins, but his mother, Carrie, was also a star in her own right. A team captain on the women's track and field team, Mrs. Hawkins was nominated for the NCAA Student-Athlete of the Year Award during her career.
The opportunity to follow in their footsteps, as well as earn the title of hometown hero, has given Hawkins a lot to think about throughout the spring and summer.
"It started off with my mom and dad," Hawkins said, when asked about his relationship with Cincinnati. "They were both high-level athletes there. Because of that, I grew up watching the Bearcats. Honestly, I wasn't a huge college football fan or anything like that growing up, but if there was one team I followed, it was the Cincinnati Bearcats. I watched a lot of their games growing up.
"But honestly, I wasn't really looking at them all that closely until Coach Fickell and his staff got there. I developed a relationship with Coach Fickell and those guys really quickly. When you couple that with the local recruits that they've taken, with guys like Malik Vann, that really grabbed my attention. Malik is a very close friend of mine. When Malik committed, that really caught my eye. So, when you add all that up, plus all the times I've been able to visit and the opportunity for me to be the hometown guy that helps put the program back on the map, that's made Cincinnati a really attractive opportunity."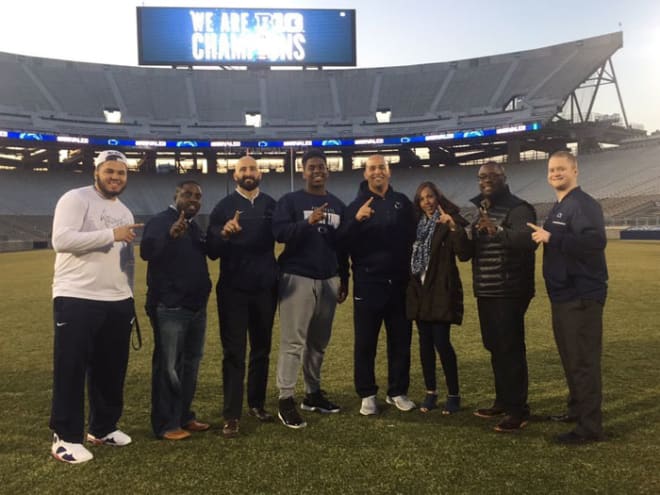 Over that same time frame, Penn State head coach James Franklin and defensive line coach Sean Spencer have also gone above and beyond with Hawkins and his family. Following their most recent and final visit with the Nittany Lion coaching staff, which was for the Lasch Bash barbecue on July 15, Hawkins said that he's "never been on a recruiting trip that's gone that well."
That's what Franklin and his staff were hoping to hear from the Moeller prospect. Now, they're hoping to seal the deal over the next two weeks.
"I've liked Penn State ever since I took that first visit there," he said. "They surprised me ever since I took that visit there last July. I didn't think they'd become a school that I'd be this big on, but their coaching staff has done a phenomenal job recruiting me. The first time, it almost felt fake when it comes to how hands-on they are with all of their guys and how important it is for them to build a relationship. Since then, I've gone on to visit there a few more times and nothing has changed at all. They really do a great job at making you feel welcomed, making you feel like you're family.
"Then, when you talk to the players there, they all say the same thing. I've gotten to know Antonio Shelton, who's another Ohio guy. He's talked to me a few times about how that relationship and that bond doesn't change at all when you're on campus. So, that's important to me. Obviously, they're a big-time football program, but I know they also really like what I can bring to their defense because I'm an athletic three-technique (defensive tackle). I think I fit their scheme really well, too, so there's a lot to like. I didn't even mention the excitement around their Class of 2018 right now. They're one of the best in the country and that's not going to change anytime soon."
Hawkins is currently ranked 18th-overall at defensive tackle and No. 9 in Ohio for the Class of 2018. Last fall, he totaled 65 tackles and 9.5 sacks playing in one of Ohio's most competitive districts.