Column: Pure joy, at last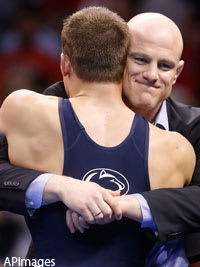 OKLAHOMA CITY -- Head coach Cael Sanderson dropped a quote from the 1998 movie "Water Boy" during his post-championship press conference Saturday night. Penn State had just won the team crown, the school's fourth in a row, but this -- a line from one of Adam Sandler's funniest films -- had to have been a program first.
Here's how it came about: Prior to the tournament's final round David Taylor climbed over a railing to join his parents in the PSU fan section of the Chesapeake Arena. (He watched portions of every session alongside his father, Dave, and mother, Kathy.) When he started to climb the metal railing to join them in the stands, the rail popped loose and smacked Taylor directly under the left eye, causing him to bleed. "Hopefully too many people didn't see it," Taylor laughed. "It's kind of embarrassing, but it's kind of funny, too."
Taylor was asked about "his run-in with the railing" during the presser. But Sanderson, who doesn't often talk about injuries, quickly butted in before Taylor could respond.
"It was the gorilla that escaped from the zoo," he said (not in the Bobby Boucher voice, unfortunately).
Right on cue, Taylor piped back, "The search continues."
It drew a genuine laugh from the dozen or so media members in the room, and caused Sanderson's and Taylor's championship smiles to only grow. It was a light-hearted, comedic moment within a 23-minute press conference that revealed a jovial side of Sanderson that reporters don't often see while he is speaking on the record. In fact, after covering Sanderson for the last four seasons, I had never seen him in this type of mood following a national tournament.
This year was different, though. And it had very little to do with the Nittany Lions becoming only the third program in college wrestling history to win four consecutive NCAA Championships. No, this was about his individuals.
"In coaching, you just try to serve these guys and that's all it is," Sanderson said. "It's just trying to help these guys reach their goals, and I'm only thinking about how to help them."
Not all of Sanderson's pupils reached their personal dreams at the 2014 NCAA Wrestling Championships, but Penn State finished with seven All-Americans. And all of them -- Nico Megaludis, Zain Retherford, James English, Matt Brown, Ed Ruth, Morgan McIntosh and Taylor -- finished their tournament with a victory. That's never happened before under Sanderson's watch at PSU.
Last year in Des Moines, Iowa, Taylor lost the blockbuster vs. Cornell's Kyle Dake. The year before in St. Louis, Quentin Wright dropped a tight battle to Cornell's Steve Bosak, and in Philadelphia in 2011, Taylor was pinned by Arizona State's (and former Nittany Lion) Bubba Jenkins during the same final round that Dake topped Frank Molinaro.
Despite winning a team championship in each of the previous three years, Sanderson was devastated in the moments immediately following those losses.
When Taylor fell to Dake last year, Sanderson could be seen in the bowels of the Wells Fargo Arena, slumped to the ground with his head between his knees. The year before that in the Scottrade Center, after I asked him about Wright's loss, he let out a frightening yell then ran toward the locker room. (It was only my second year on the job. To steal another "Water Boy" line, I was simply hoping a can of whoop-ass wouldn't be opened.)
Sanderson enjoys the team titles, no doubt. But he puts so much time and effort, blood and tears,
literally
, into ensuring that his stars can stand atop the podium that it stings him when they don't. So both of those instances aren't your typical reaction from a coach who had just won a national championship.
Instead of sorrow and outbursts in 2014, however, it was high fives, hand shakes, a Bobby Boucher quote and pure joy, at last, from Penn State's fifth-year mentor.
"If they're happy," he said, "we're happy."
And that wasn't the end of Sanderson's noteworthy comments.
Sure, he blamed Taylor's small eye wound on a stray primate, but he also divulged -- without being asked -- some new information about the biggest unsung hero of PSU's latest championship.
While he and his wrestlers normally stay tight-lipped about injuries -- for instance, at practice earlier in the season Ruth had his hand taped and he told reporters a cat scratched him -- Sanderson was willing to go into great detail about All-American James English.
English started the season as a backup, due to a variety of nagging shoulder, back and neck injures, but when his college career ended Saturday, it was capped by a thrilling overtime victory against returning NCAA champ Kendric Maple of Oklahoma.
"I know he took seventh and he didn't win the championship, but this is a guy who came back for his sixth year and I wasn't sure why because he's always hurt," Sanderson explained, unprompted. "This is a kid who shouldn't wrestle. He's going to have neck and back problems for the rest of his life. He probably didn't wrestle live all year, outside of (against) a coach. As the season went along, I'd kind of written him off."
But English didn't write himself off. In fact, he persistently tried to persuade Sanderson throughout the season that he was healthy enough to compete. English paid his own tuition and room and board this past season and fought hard for a spot. Once Sanderson gave him the go-ahead, English ultimately proved his value with his first All-America finish. Sanderson called it "a pretty special story."
"Cael told me after the match that I made him so proud," English said, "and that meant the world to me."
Likewise for Sanderson, individual results such as English's mean the world to him.
"All of our All-Americans won their last match and that's a big deal," he said. "It makes it easier as a coach when your guys win their last match. Usually after a tournament you have somebody who hasn't reached their goals. So it feels good for these guys to go out with a win."