Arrington, prominent lettermen blast PSU search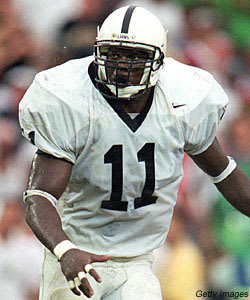 [rl]LaVar Arrington says he is done with Penn State.
Reached hours before reports surfaced that Bill O'Brien would be named the Nittany Lions' next head coach, Arrington and other prominent lettermen insisted that if Penn State departed from the football family in naming Joe Paterno's successor, some would sever ties with their alma mater.
"I will put my Butkus (Award) in storage. I will put my Alamo Bowl MVP trophy in storage," Arrington said. "Jerseys, anything Penn State, in storage. Wherever Tom Bradley goes, that's the school I will start to put memorabilia up in my home. I'm done. I'm done with Penn State. If they're done with us, I'm done with them."
In an overwhelming show of support for Bradley, the longtime defensive coordinator who served as interim head coach for the past two months, Arrington was joined by other former lettermen who said they were outraged the committee would overlook the values and traditions that made their Penn State experiences so meaningful.
"By these people making the decisions the way that they are making them, basically coinciding with everything that's being written about our university, if they get rid of Tom Bradley, that means they in essence have accepted the fact that we are all guilty," Arrington said. "You might as well call it all the same thing.
"What we stood for and what we represented for so long, what we have been taught, what we have been trained to know and the values that I raise my own children with, you're basically telling me it's good, only as long as times are good."
Said former All-American linebacker Brandon Short, "I don't want to be affiliated with the university if they don't choose a Penn State guy because of our standards, our graduation, all the things that have been important... it's no longer Penn State, so we might as well be in the SEC. They are intent on turning it into a booster culture. Ira Lubert went out and purchased a national title with wrestling and he's under the illusion that he can do that in football. Well, ask (Redskins owner) Dan Snyder about that."
"Penn State is a family and it is real and if they choose to get rid of Bradley and not hire a Penn State coach, then they've turned their backs on our entire family."
Arrington and Short are not the only former Penn State All-Americans to offer their support for Bradley in an effort to maintain the standards and practices that have defined the university's football program for decades. D.J. Dozier, a 1986 All-American, acknowledged that Penn State's standard of excellence goes well beyond the football field for its players.
Though Dozier said he and other lettermen had not been directly consulted for their input on the coaching search at any point in the process, a meeting was planned for Friday afternoon with Short and acting athletic director Dave Joyner. Still, he speculated that many other former lettermen continue to ask themselves why they hadn't been consulted in some capacity during the search.

Click
Here
to view this Link."I would venture to say that a lot of guys thought, why not? Why wouldn't someone ask us? Aren't we a part of this university? Aren't we a part of the program? Don't we care? Don't we have a little bit of expertise or at least a thought that may spur another thought? I believe to get the right or best answer, you survey the land.
"So, do the guys feel left out and pushed to the side? Well, of course. I think we can all speculate and if we speculate long enough, we'll figure out that, well, maybe politics are working this one. I would love to see more of a collaborative approach to this process because, again, we're not trying to say that Penn State is more special than another, but there's a certain way that we have done things."
He continued, noting that in the past 10 years of Paterno's career, more and more of the coaching duties had been relegated to Paterno's assistants, which Paterno readily acknowledged in recent years. The result, Dozier says, is a coaching staff that is already well-prepared to handle its changing role.
"It's my belief that the current coaching staff has done a pretty good job over the last few years," Dozier said. "So, that means that this group of coaches has done the job. This has been their job to get done. So, why are we even considering someone else? It's politics, it's fall out, it's everything that has nothing to do with a program and continuing to build a solid program.
"If the board or the committee believes that they need to go outside of the current staff, which, I don't see why, then go get a Penn State guy."
Added Short, "It is the view of the vast majority of the lettermen that they've been marginalized and their family is being destroyed."
Nate Bauer covers Penn State football for BlueWhiteIllustrated.com. He can be reached at nbauer@bluewhiteonline.com.